All Posts in Category: Teleconference General
We've all been there, overcome with the urge to sign up for a free conference call service. We quickly rationalize that it's just a conference line….everyone's doing it….my money should be spent on building the company, not running the company. As the new generation of conference call platforms emerges with a nice blend of powerful features and affordability, it's getting harder and harder to rationalize going with a free service.
Here are 10 reasons to go with a paid service rather than a free service: Read More
Branded Bridge Line is proud to announce the arrival of "auto-mute", enabling a moderator to indicate that all participants should by default be muted when they arrive. This is a feature that has been requested more and more recently. We've noticed ourselves that when there are more than about 12 participants on a conference call, it becomes difficult to control background noise unless you have a muting policy in place. This feature will work for you even in a corporate setting to keep the noise under control.
Read More
Every once in a while we're required to attend a conference call that is hosted elsewhere. With some conference call services, you will spend nearly 30 seconds navigating through the prompts, confirmations, etc. And if you misdial, well, you are better off hanging up and calling back. It's one such experience that prompted us to do an analysis of various conference providers, trying to find the
best conference call service
when it comes to: time to get through the door. This is a comparison of BrandedBridgeLine stacked up against other providers, including
TurboBridge
,
VastConference (ConferenceCalling.com)
,
Uberconference
and
FreeConferenceCall.com
The results are pretty interesting. We're proud of where we placed.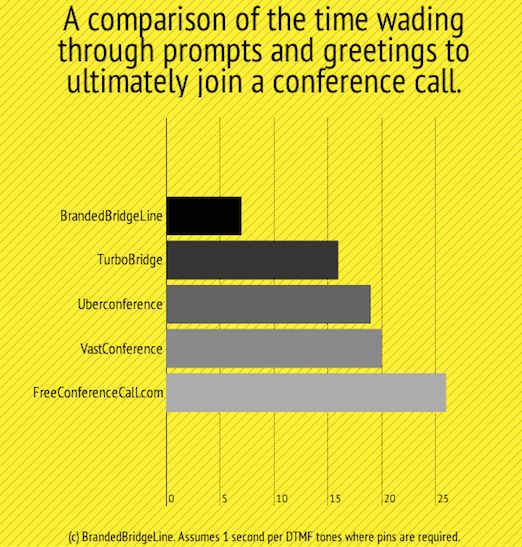 [dvk_social_sharing]