Have mundane conference calls got you down? Tired of being sold on features you don't need? Wish you could infuse your phone conferencing with features you'd actually use? Well, it's hard to identify what features you're missing if you don't even know they exist. Here are four conference calling features you never knew existed but will change your conferencing for the better.
Totally PIN-Free Conference Calling
We've all been there. You've got a conference call scheduled for 1:00 PM, but lunch goes a little longer than expected so you're rushing back to your desk. You sit down at 12:59 PM with a minute to spare! A minute, that's plenty of time to dial into a call. It's just dialing a number, right?
So you grab the calendar invite and dial the number – whoops! Clumsy fingers (and the fact that no one actually dials any numbers anymore because everything is saved to our address books) you entered the number wrong. Hang up. Redial. Then you're hit with the infamous prompt:
Please enter your meeting PIN.
And you just closed the calendar invite! You reopen the calendar invite, scroll down, expand the notes section, and finally find the access code. You enter it… but does it need a pound? You wait. Finally you hear:
Meeting not found, please re-enter your meeting PIN followed by the pound key.
You re-enter the PIN, press the pound key and… finally! Success! It's 1:05 PM – late but not too late. Hopefully you didn't miss anything important on the call. Then you hear:
No one else has joined the call.
Looks like you weren't the only one who struggled with the access code. If only there were a better way to conference call!
Introducing PIN-free conference calling from Branded Bridge Line. Dialing in has never been easier. Say goodbye to pesky access codes and host PINs, and say hello to starting your conference calls easily and on time.
With our revolutionary pinless conference call, you get a dedicated line and unique phone number for your calls. We think conference calls should be easy. Save the number once and dial-in directly. No need to enter and re-enter phone numbers or access codes. Once you try it, you'll never want to go back.
Let Us Show You The Difference!
Schedule a demo of our pain-free conference calling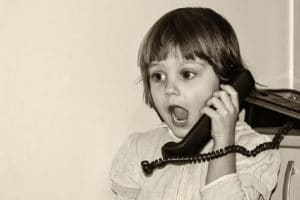 Custom Branded Greetings and Hold Messages
Have you ever been on hold (okay, so that's everyone) waiting for a conference call to start (so, most people) and thought, "This would be a great opportunity to reinforce brand messaging and emphasize key service offerings?"
You might not spend all day thinking about the most effective use of conference call holds, but we do. Hey, it's our job! And we offer a unique service to help our customers get their message to as many people as possible with custom branded greetings and hold messages.
Plus, it's the perfect way to impress potential clients and reinforce trust with existing ones. Having a custom greeting can give the impression that your company is bigger than it is, or just help inform anyone dialing in that they're on the right call.
With Branded Bridge Line's custom greetings, it's easy to make a strong impression at every touchpoint with a brand-forward phone conference strategy. And one thing that helps set Branded Bridge Line apart from other conference call providers is the fact that we have real voice actors on call to record professional greetings to your exact specifications. When it comes to securing new clients and retaining existing ones, the importance of professional and well-produced brand repetition can't be overstated.
When you open up to the option of a custom branded greeting instead of generic hold music, you have so many possibilities. You can talk about your award winning customer service. You can feature some of your biggest products or initiatives. You even talk about how much you love and value your amazing employees! Whatever you think is your company's best trait, custom-branded greetings let you put your brand ideals directly in front of your contacts and clients.
Advanced Screen Sharing When You Need It
Sometimes, it's easier to show than it is to tell. How many times have you been on a conference call, going through notes, when an explanation of a complicated visual totally breaks down?
At Branded Bridge Line we know that most of the time a good conference call can't be beat. If you're looking for the best way to hold a meeting or share information between people in different locations, a good conference call is the way to go.
We care most about efficiency. We aim to provide services that make communication and information sharing as simple and effective as possible. And while we're the first to stand behind the power of a good call, we also know that sometimes the quickest way to make a point is to share a visual.
That's why we offer free and simple screen sharing with all of our conference calling plans. If you're planning on sharing a screen on your call, simply share your dedicated screen sharing link along with your dedicated conference number. Click the link and your callers can immediately see what you're sharing!
Toll-Free Conferencing
Even though the days of 1-800 commercials are essentially over, the "toll-free conference call" remains the touchstone of professionalism when conferencing with current and potential clients.
Offering your callers a toll-free dial-in can help instill confidence in your brand and company at a super-low cost. With Branded Bridge Line, this legitimate value-add is included with many of our conference calling plans or can be added to any of our plans for $10 a month or 4.3 cents per minute.
This flexibility is perfect if you don't think you'll need to offer toll-free conferencing all the time. Trying to snag a top-name client? Turn on toll-free conferencing for a month and impress them with toll-free conferences. Once you've got them, you can turn it off at any point.
Conferencing Features You Actually Want
Our whole goal is make conference calling features that actually make alls and meetings better. Access codes are annoying, so we took a step back and said, "What if they didn't exist?" Hold music is a missed branding opportunity so we decided to let our users customize it however they see fit. Screen sharing is the best way to share certain information, so we include it on every plan. Toll-free conference numbers add a finer touch and elevate the conference call experience, so we made it easy and affordable to add to your plan.
We're committed to our goal of making conference calling better for everyone. In this post we've covered four conferencing features you'll love and may not have known even existed – but we've got even more. Checkout the rest of our advanced features.