Occasionally, we're required to attend a conference call that is hosted elsewhere. With some conference call services, you will spend nearly 30 seconds navigating through the prompts, confirmations, etc. And if you misdial, you're better off hanging up and calling back. It's one such experience that prompted us to conduct a conference call service comparison to find the best conference call service.
In this comparison, we'll be looking at Branded Bridge Line stacked up against other providers, including TurboBridge, VastConference (ConferenceCalling.com), UberConference and FreeConferenceCall.com. The results are pretty interesting. We're proud of where we placed.
Conference Call Service Comparison of Audio Quality
Audio quality is perhaps the single most important aspect of a conference call. How can you brainstorm, connect with clients, and close deals when you can't hear the other participants on the call?
Audio quality should be the first thing you consider when comparing conference call service providers. Here's a quick breakdown of each conference call provider's audio offerings:
Branded Bridge Line: High-fidelity digital audio
TurboBridge: HD audio with ITU Standard wideband speech codec G.722
VastConference: HD audio
UberConference: HD audio
FreeConferenceCall.com: HD audio
While the definitions and meanings around HD audio are somewhat subjective, high-fidelity audio is a familiar term in the sound space. High-fidelity (hi-fi) refers to a system that produces clear and accurate sound. An optimal hi-fi system should make it near impossible to distinguish whether you are listening to the real thing or a recording. With Branded Bridge Line, you and your fellow meeting members can enjoy hi-fi conference calling.
Wait Time Before Joining a Call
To start off the conference call services comparison, we looked at time spent waiting to join a conference call. We know that time is extremely valuable to your business, and don't think you should waste any of it waiting to get into your web conferences.
By eliminating dial-in PINs and allowing you to record your own custom greeting, Branded Bridge Line clocks in with the shortest wait time. Astoundingly, you could wait up to half a minute to join a conference call using other conference call service providers. If you have 50 meetings over the course of a year, that's 25 minutes wasted!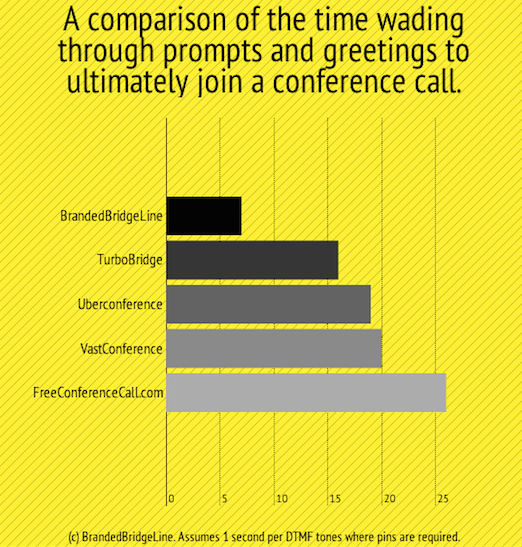 Pricing
When it comes to conference call services comparison, pricing is one of the most important factors you'll need to consider. Comparing pricing between different conference call providers is a little trickier than you might think. Each provider offers different service tiers at different monthly and annual price points. To accurately compare prices between different conference call providers, you have to make sure you're getting the service levels you need before comparing a monthly price.
TurboBridge:
Pricing starts at $9.95 per month, and that only includes one conference bridge and no custom greeting.
When you add an additional bridge and custom greeting, you're up to $24.95 per month, but you're limited to only 300 callers per conference.
UberConference:
Business plan starts at $20 per month and supports 100 conference participants; doesn't offer custom branded greetings.
Monthly pricing is billed per user, per month, so if you need to add just one more user, you're up to $40 per month.
VastConference:
Professional plan starts at $39.99 and supports 250 participants.
Like UberConference, the pricing is billed per user, per month; you're spending nearly $80 per month for just two users.
FreeConferenceCall.com:
Uses StartMeeting for their enterprise conferencing plans and use a per host, per month pricing model.
Their website lists their monthly plan starting at $12.95, but that is for a single host with support for up to 1,000 participants.
When you add an additional host (for two lines) you're up to Branded Bridge Line's monthly price and still only have support for 1,000 conference participants.
Branded Bridge Line:
Branded Bridge Line's Professional Plan is $24.99 per month and includes features like:

Custom branded greetings.
Custom hold music.
Two dedicated dial-in lines.
Supports an unlimited number of callers.
When you take a closer look at conference call services comparison on pricing, you can see that Branded Bridge Line offers more standard features and callers at a price that beats or matches the competition.
Customer Service
While most modern conference call services are designed to be easy to manage and set up, there are always potential for snags or unforeseen complications. As you dive into your conference call services comparison, it's vital to take each conference call provider's customer service reputation into account.
Many free conference call providers offer no customer service beyond support articles and online explanations. When you get into business and paid conference call plans, you'll start to see that not all phone conference providers offer the same levels of support.
Of the plans compared here, 24/7 phone support is offered only by:
Branded Bridge Line
FreeConferenceCall.com (through their enterprise level plans provided by StartMeeting)
VastConference
Additionally, 24/7 online chat support is offered just by:
Branded Bridge Line
VastConference
UberConference only has an online chat support option and TurboBridge offers phone support during weekday business hours.
If you're looking for an affordable conference provider that offers around-the-clock support with a full arsenal of features, Branded Bridge Line is the conference call provider for you.
Let Us Show You The Difference!
Schedule a demo of our pain-free conference calling