During the COVID-19 pandemic, many people had to adjust to working from home. We've had to learn to adapt to virtual meetings, ignore distractions around the house, and find self-motivation to get work done without a colleague or boss there to check in.
The pandemic that propelled us to connect and go about work and life in a virtual manner may be going away soon, but the lingering effects have shown that remote work is possible and here to stay. If you were trying to figure out how to prevent burnout during COVID, we've got some tips for how to avoid burnout working from home that should do the trick.
Job burnout is a state of physical or emotional exhaustion due to work-related stress that can involve a sense of reduced accomplishment and loss of personal identity.
Burnout can be caused by outside factors such as depression, overworking, or working from home and not being able to separate work from personal life.
Causes of work-from-home burnout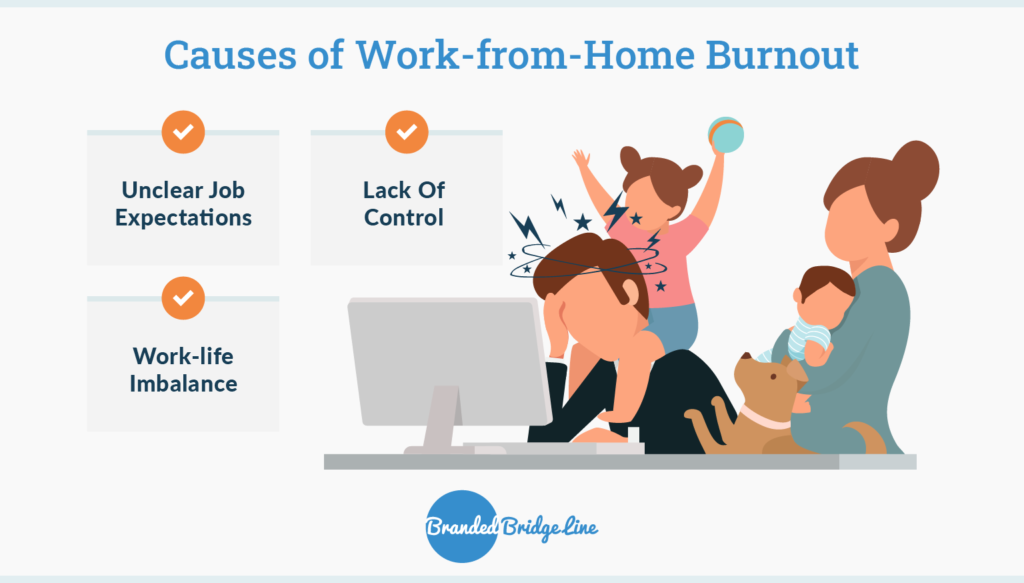 The causes of burnout can be fueled by the remote work atmosphere. Some causes include:
Unclear job expectations – Working from home can create a barrier to you and your coworkers and bosses, which can result in lack of communication as to what is expected from your performance.
Work-Life imbalance – When your office is your home, the chance to leave your stresses at work is nearly impossible. You're forced to deal with work at home and it makes separating your professional and personal life extremely difficult. This can create a work-life imbalance that can negatively affect your physical and emotional well-being.
Lack of control – Shotty internet, inability to have face-to-face, in-person discussions with others, distractions at home; these can all build to a lost sense of control you have to do your job. It can become discouraging, especially when you can't control some of the barriers that have been put up due to the work-from-home restrictions.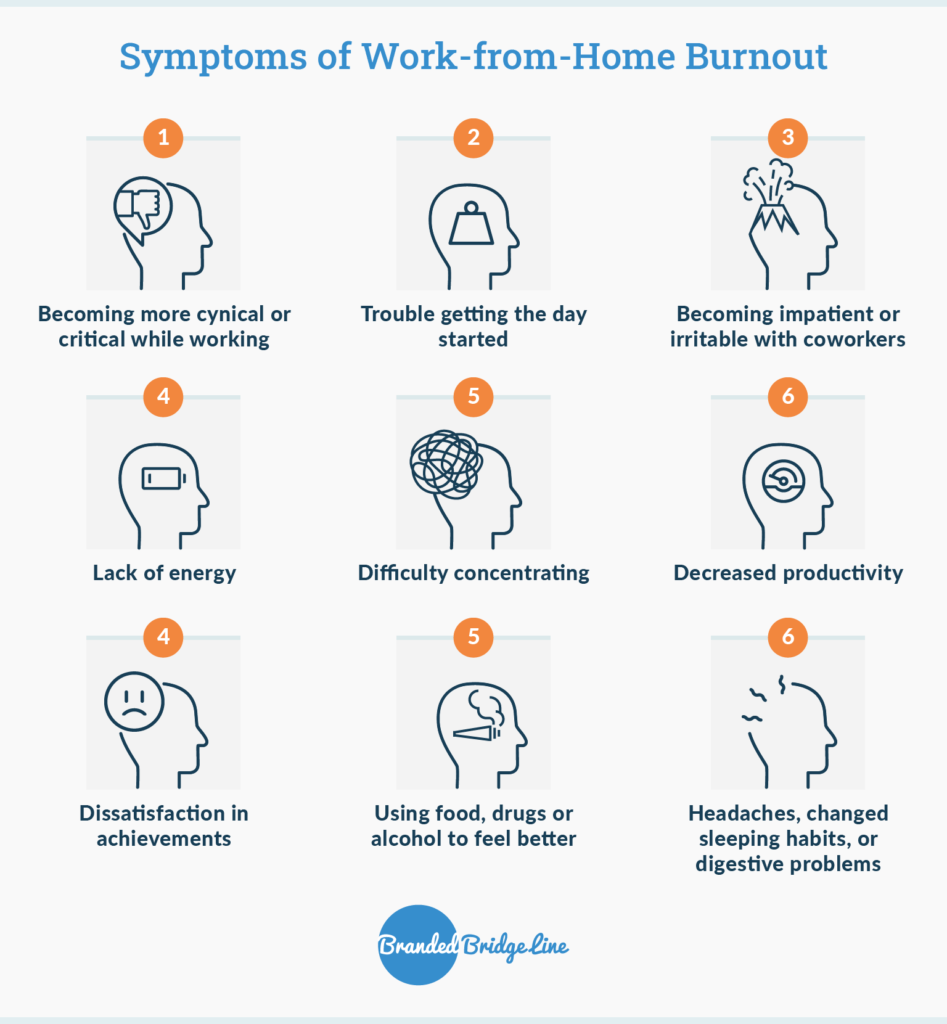 There are some textbook symptoms to spot job burnout including:
Becoming more cynical or critical while working
Having trouble getting the day started
Becoming impatient or irritable with those you interact with within the workspace
Lack of energy
Difficulty concentrating
Decreased productivity
Dissatisfaction in achievements
Using food, drugs or alcohol to feel better than the current state
Headaches, changed sleeping habits, or stomach or digestive problems
If you think you may be experiencing some of these symptoms, read on for five tips on dealing with burnout.
Five Ways to Deal with WFH Burnout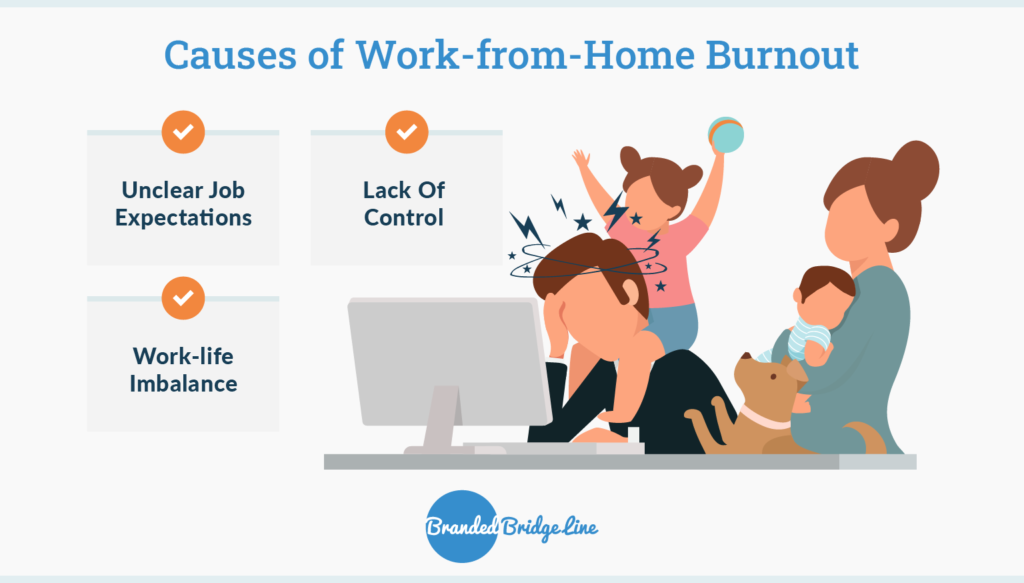 Here are our top five strategies on how to avoid burnout when working from home.
In addition to the tips below, make sure you speak to a boss or manager about how you're feeling and if needed, seek out therapeutic support.
1. Create separation between your workspace and homelife
Working from your bed or on your couch with your laptop propped up on your legs is a surefire way to get WFH burnout. There needs to be a separation between work and home if you want to do remote work successfully.
If you have the flexibility to make a dedicated workspace that mimics what an office space would feel like, do it. Having a work area with desk, chair, and other work supplies can increase your productivity by getting you into the right, "work-mode" mindset. More importantly, it also allows you to break apart from work when you need to.
By not creating a physical barrier between work and home, you invite your work stresses into your homelife and personal happiness.
2. Have fewer and more efficient video calls
As we continue to work remotely, Zoom fatigue will continue to exhaust us. You may be burning out because of the constant video communications that have become the norm for connecting with clients and coworkers.
While a Zoom meeting is often times necessary, be sure to cut out the distractions (e.g. cell phone, open tabs, things going on around the house) and lengthy meetings when you are able to. Video chatting in excess can be cognitively draining and also take a physical toll on the body.
If meetings don't require video, opt for an audio conferencing service that can support quick and efficient calls.
3. Seek support from your colleagues, virtually
Getting support from your team can help you avoid WFH burnout. Even though you may not be able to collaborate with coworkers face-to-face, your productivity doesn't needs to suffer.
When trying to figure out how to avoid burnout when working from home, start with ensuring you have a successful virtual team set up. There are little things you can do to maintain the connection with your coworkers, even if you're miles apart.
Try screen-sharing during virtual calls to help keep all members engaged with the topic being discussed. Also, avoid multitasking during conference calls.
Keep your office culture alive by scheduling mini coffee dates with colleagues. Had a crazy week? Consider hosting a virtual happy hour where everyone can let off some steam.
By making these small efforts, you can help your virtual team perform to their highest potential and still manage to enjoy each other's company while doing it. As WFH becomes more and more of the norm, keeping those peer-to-peer connections alive and well will be crucial.
Be straight-forward and upfront about how much time and energy you are willing to give to your job. Draw clear boundaries and if you live with another person, let them know about those boundaries so they can also help you avoid burnout.
You can also let your company know when you'll be available to respond to emails and chat messages, and when you will be offline. Setting expectations early on helps the whole team.
Sticking to the boundaries you set can mean blocking off certain times in your calendar so colleagues know when you will not be able to attend meetings, when you need to devote time to working, and when you will be offline for the day.
5. Maintain open communications
It's important to keep in mind that you may be struggling with the same problems as your co-workers. In fact, they'll probably be able to relate to many of the feelings and situations you're dealing with.
As long as you maintain open communications and be forthright and honest about what might be causing problems, you can pave the way to a solution.
For example, if you have to help your kids with remote learning during the workday, let your colleagues know. That way, you can work together to figure out what needs to happen to get the work done, whether that's shifting meetings around or extending deadlines.
Remember, your team is there to support you and at the end of the day, one person's success if everyone's success. Don't be afraid to talk to your coworkers or manager about how you're feeling and what you're dealing with.
Combat the Burnout with Branded Bridge Line
While we are turning a corner in this pandemic and work will move back to the office, it is estimated that at least 16% of employees will remain remote after the COVID-19 pandemic resolves.
With this in mind, knowing how to avoid burnout when working from home becomes even more relevant. In order to continue to achieve job satisfaction, even if it's remotely, working on effective communications and getting the support you need is the main way you'll push through job burnout.
Through communications platforms and solutions provided by Branded Bridge Line, you can set yourself up to successfully communicate with your team to get the job done. Get a single, dedicated conference line and unique phone number for all your business meetings. Less complicated. More professional.