Conference calls are a vital part of any business. They're easier to schedule than in-person meetings (especially if you have international clients, partners, or employees) and are more productive than long, drawn-out email chains.
But even if you're using industry-standard conference call best practices, how do you know if your conference calls are secure?
The last thing you want is to discuss sensitive information on a conference call only to find out after the fact that the conference line is compromised. That's why taking conference calling security seriously is so important.
Not sure where to start? Read on for seven top conference call security best practices to learn how to lead a conference call that is as secure as possible for your business   .  
1. Only Use Dedicated Lines and Conference Bridges
You get what you pay for. It's true for almost every product or service, and it's no different with conference call service providers. When it comes to conference call security best practices, the more you pay for your conference call service or plan can have a direct impact on the security of your conference calls.
Most free conference call providers don't provide you with a dedicated conference line. Essentially, these providers assign random phone numbers for every new conference call you want to host on their platform.
Since numbers and lines are randomly assigned, there's no way to ensure that the conference line you're using today wasn't used by someone else (who still has the number saved in their calendar invite) yesterday.
To ensure you're only using conference call security best practices, it's best to use a secure conference call service that provides dedicated lines.
With Branded Bridge Line, each conference call plan comes with its own, dedicated line and number. Your conference line number will never get reassigned to another account, and you can rest easy knowing that the only people who have access to your line are the people you give out the number to.
2. Utilize a Proprietary Meeting Naming Convention
It may seem old school, but hackers have a better shot at accessing your secure data when they can directly target the information they want. In the case of conference call security best practices, it's important to consider your company's internal conference call naming conventions.
Think of it this way. If a hacker can get access to your company's calendar server through a network breach, they would in turn have access to the names of every meeting on every employee's calendar.
A hacker will be more likely to try accessing a conference call if it's titled "Sensitive Company information Overview" instead of "Bill's Surprise Birthday Party Planning." It'd be like saving all your passwords in a file on your computer called "Passwords – Don't Open."
This isn't to say that you should start using misleading conference call meeting names. But you should think about using a conference call naming convention that obscures the nature of any calls that feature sensitive data. Smart internal naming conventions for meetings, conference calls, and file storage is an easy first line of defense against hackers.
3. Never Unnecessarily Share PINs and Access Codes
You may be noticing a theme here, but they key to conference call security best practices is limiting the dissemination of crucial access information.
Remember: emails are regularly hacked. Email is still the most common form of communication in business, and hackers will frequently start a hack by infiltrating someone's work email account.
In order to limit the possibility of a hacked conference call, make sure that only the people who absolutely need to be on the call are sent access codes and dial-in PIN information.
For large conference calls where sending access information to many people is inevitable, read on for a more advanced solution to keep your conference calls secure.
Let Us Show You The Difference!
Schedule a demo of our pain-free conference calling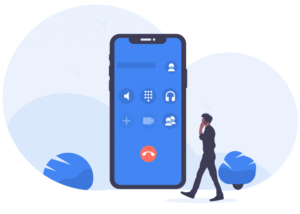 Keep Your Meetings Safe and Secure
Get peace of mind with our secure audio conferencing service.  Schedule a demo today.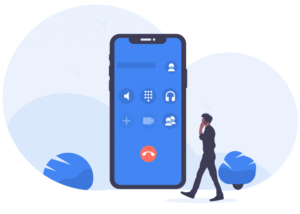 Let Us Show You The Difference!
Schedule a demo of our pain-free conference calling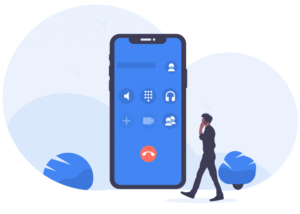 4. Circumvent Hacked Passwords with PIN-less Dial-ins
One way to avoid having to worry about PINs, passwords, and access codes with your conference calls altogether is to choose a conference call provider that offers PIN-less dial-ins.
It seems counter intuitive but having no password at all is actually more secure than using a shared line with a PIN or access code.
You'd be more in line with conference call security best practices by ensuring that you're using a secure, dedicated line. Plus, PIN-less conference dial-ins are more convenient. You can say goodbye to annoying access codes and make it easier for your participants to call directly into your conference call (all while ensuring a more secure line).
5. Employ an Advanced Call Dashboard for Real-Time Caller Surveillance
To take conference call security to the next level, you need to know exactly who is on your call. The only way to know each caller on your line is to use an advanced call management dashboard like the one offered by Branded Bridge Line.
Our advanced call management dashboard follows the latest conference call security best practices and allows you to take full control of who is on your call. You can easily see who is on the call, and if there is an unrecognized number or caller on the line, you can immediately give them the boot.
With our proprietary Call Lock feature, you can even lock unwanted callers out. It's a simple tool that allows you to secure the line once each participant has joined, ensuring no one else is able to join the call.
6. Only Use Tier 1 Carriers
Not all VoIP connections are created equally. If conference call best practices are a priority for you, then it's important to understand the differences between Tier 1, 2, and 3 carriers.
Tier 1 Carriers: A Tier 1 carrier utilizes a network wherein it's the only operator—possessing a direct connection to the internet and the networks it uses to deliver all voice via data services. This ensures that there are no other networks "peering" (ie: piggybacking off another network and/or carrier) into your network.
Tier 2 Carriers: These carriers include most larger ISP and Telecom providers. They maintain their own networks on a much smaller scale than Tier 1.
Tier3 Carriers: A Tier 3 carrier connects consumers to the internet without their own network. They service only the connection leading to a home or office.
Branded Bridge Line only uses Tier 1 carriers, ensuring you have a secure conference call every time.
7. Examine Call Reports to Isolate Any Unwanted Callers
You should always double check call reports to ensure your conference was secure.
After any conference call containing sensitive information is conducted, review the call report or log for any unwanted callers. This should only be used as a fail-safe. If you've followed all the previous security tips, there shouldn't be any unusual activity on the log.
If you notice anything suspicious on the call report, it's best to report it as soon as possible.  
Get a Secure Conference Call Solution with Branded Bridge Line
You should be able to host a conference call without the fear of your data being compromised. That's why we work to protect your business. At Branded Bridge Line, our secure audio conferencing ensures that your conference calls and data are secured using top industry standards.
You can count on our dedicated conference lines and advanced call management features to keep every call private and secure. Contact us today to learn more about our plans.