Conference calls are unavoidable. If you are work, volunteer, or are a part of any organization, you will likely have to participate in a conference call along the way. This is especially true for people who work remotely or travel a lot for business.
Conference calls have gotten a bad rap because some conference call companies make joining a conference call difficult with long access codes and different phone numbers depending on where you're joining. So if conference calls are necessary part of your life, you should explore the versatility and ease of using a free conference call app to join your next meeting.
Conference call apps simplify access and can even provide financial benefits. In this article, we'll explore some of the time-saving and cost-saving benefits of using a conference call app to access your conference call meetings.
How Conference Call Apps Work
Conference call apps are like any other smartphone app. You download them from the app store, usually Apple or Android, and install them on your phone. Although conference call apps run on your smartphone to connect to your conference call, calls made on those apps don't use minutes from your cell phone plan. Instead, they use a technology called VoIP which bypasses your normal phone service and makes the call over the Internet using either your mobile data or your Wi-Fi connection.
VoIP stands for Voice over Internet Protocol and it is a technology that takes analog audio signals and converts them into digital data that can be transmitted over the Internet. VoIP has changed the way we make phone calls, moving away from the limitations of the traditional packet switched telephone network.
VoIP provides greater audio quality over a traditional analog system. With VoIP, audio is digitized at a higher sampling rate providing a richer range of sounds. Because calls are transmitted over the Internet, there are much better routing options to avoid congestion and network failures.
Access Meetings from All Over the World
One of the key advantages of using a conference call app for connecting to an audio conference is that you can call in from anywhere in the world where you have access to the Internet. Unlike streaming services, the data requirements for a conference call app are much smaller making it an ideal method for accessing important meetings globally, even in remote areas.
On your smartphone, there are two options for accessing the Internet. If you are in a location that offers Wi-Fi access, you can connect your smartphone to the Wi-Fi network, launch your free conference call app and make your call. If on the other hand, there's no Wi-Fi hotspot, you can turn on your smartphone's mobile data and then place the call using your conference call app. Keep in mind however that some cell phone plans limit the amount of mobile data you can consume each month. Although conference call apps don't use a lot of data, it's something to consider if you choose to access your meeting using mobile data.
So if you plan on traveling and know you'll need to dial into an important call while away, be sure to install a conference call app for Android or iPhone before you go. The conference call app you choose to install has to be the app offered by the conference call service hosting the call. For example, Branded Bridge Line offers a free app that allows users to dial into a Branded Bridge Line conference call at no charge. If your meeting is on a Branded Bridge Line conference number, go to the Android or Apple store and download the Branded Bridge Line conference call app. Make sure to contact your meeting organizer to find out which conference call provider's app you should download if you are uncertain.
Let Us Show You The Difference!
Schedule a demo of our pain-free conference calling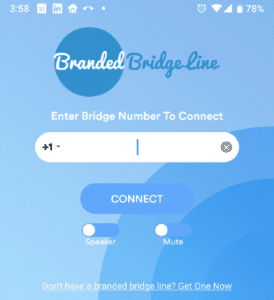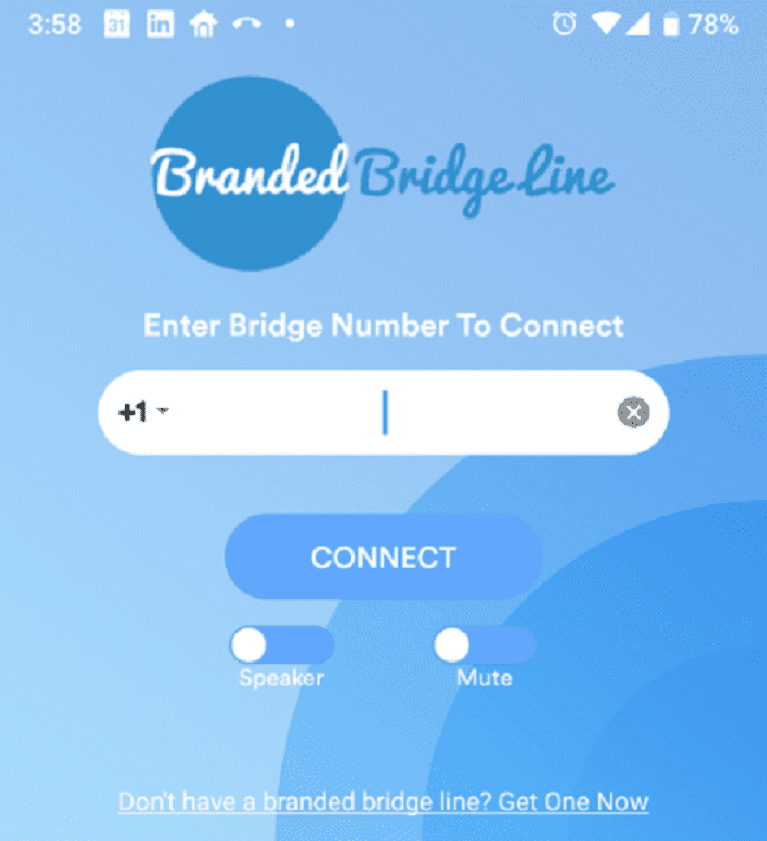 Amazing Audio Quality
Because conference call apps operate over the Internet using VoIP, they deliver HD-quality audio, meaning better sound quality and overall a richer audio experience. Anything HD is better, right? What is HD audio exactly and why do I need it?
HD conference calls offer an improvement over existing narrowband calls because an HD audio signal provides more sound information. The human ear can process audio from 50 Hz to 22,000 Hz, The human voice ranges from 80 Hz to 14,000 Hz. A conference call conducted on a mobile device over a landline using the public packet switched network (in other words, a typical conference call) provides audio in a range from 200 Hz to 3,400 Hz. A band this narrow clips off sound at both the low and high ends of the hearing range.
Clipping out the low and high ends of the audio signal can blur or muddle similar sounds making it more difficult to distinguish between callers on a conference call or between similar words that are spoken such as sale and bail. Add in background noise from your commute or international accents and this will further deteriorate the ability to conduct an effective conference call.
Using a wider band communication mechanism such as VoIP, an HD audio conference call system can produce richer sound in a range from 50 Hz to 7,000 Hz or more, improving the clarity and communication.
Adding HD audio to conference calls produces more efficient meetings. Research shows that HD audio conference calls are less stressful, more engaging, and less fatiguing. People stay on calls longer, can tell more easily and clearly who is speaking, and better understand what is being said. All these factors lead to more productive meetings.
Conference Calls are More Economical with a Conference Call App
Anyone who has experienced business travel knows that making phone calls from the road, especially when traveling internationally, can be expensive. Have you ever noticed your bill after making a phone call from a hotel room? Fortunately with cell phones, you can avoid the over-priced hotel phones but still, calling back to your home country during international travel on a cell phone can be pricey.
Since conference call apps operate over the Internet, there's no need to worry about international dialing charges that rack up the longer you talk. Join your conference calls on the road using an app without the need to fill out an expense report for your cell phone bill when you get back to the office!
Simpler Access
Just as international phone calls can be expensive on the road, they can also be complicated. Do I dial an access code to get out of the country's phone network? What's the country code I should dial? Before you figure out the right combination of digits, your call may be over.
Using a free conference call app on your smartphone makes dialing simple. Just dial the number you are provided in the meeting invitation and the app will make it feel like you're dialing a local call.
Don't Have Your Phone? Use Your Tablet
Have you ever forgotten to adequately budget your cell phone battery or did you leave your phone on your desk when left the office? That doesn't happen often but when it does, the beauty of a conference call app is that joining the call doesn't actually require a smartphone. Just reach for your Android or iOS tablet and install the app.
Joining a call from your tablet is no different than your smartphone. Some conference call app providers don't optimize the app's display for the tablet form factor, but it will still place the call even if the display is a little small.
Impress Your Customers
Because conference call apps are so versatile, you will easily impress your customers. They will welcome an easy, free way to access your customer meetings. If you use a highly customizable service like Branded Bridge Line, you can brand your conference call experience leaving your customers feeling secure that they have selected a vendor who pays close attention to detail and values professionalism.
Think you'd like to experience the versatility of a free conference call app and want to raise the bar on your conference call? Check out Branded Bridge Line's conference call app features today!