It's no secret that people are getting busier and busier as we move further and further into a technological age. Whereas most people used to set aside an entire day for church-going and church-related activities, now people might miss church entirely one weekend if their schedules pile up. Additionally, getting to church can prove challenging for elderly people and anyone with a mobility issue.
But one thing that hasn't changed is people's need for good prayer and support. And that's where a toll-free prayer line can really help. Setting up your own conference bridge service is easy, and the benefits are innumerable.
In this post, we'll walk through the steps required to set up a unique and toll-free prayer conference line for your church so you can be sure your entire congregation is consistently getting the prayer and support they need.
What Are Toll-Free Prayer Lines?
The concept of a toll-free prayer line is fairly simple. Think of a conference call that you might join for an office meeting. Folks from around the world can come together on a single call to share information and ask questions. And while conferencing is typically used in a professional setting, the functionality can be easily applied to other scenarios and situations.
Since a conference call effectively just brings people together, it can act as a virtual meeting place. In the context of prayer, this can have many applications. Take, for instance, members of a congregation who are traveling for vacation or business.
Just because they aren't able to physically attend church doesn't mean they can't be present in other ways for prayer.
With a toll-free prayer line, your church can expand the amount of time available for your congregation to come together in prayer. Members of your congregation, and even their families or other loved ones, can call into the prayer conference line to request specific thoughts and prayers for themselves or others.
Plus, if you schedule specific conference call prayer times, everyone on the line can come together to possibly increase the power of the prayer.
Setting Up Prayer Conference Calls
With most prayer conference lines, a prayer leader is determined and then they take care of the toll-free conference line details. Like a meeting or conference call leader would do in a professional setting, conference prayer leaders will decide when to schedule the prayer line, send out details on how to participate, and develop a rough agenda to follow during the course of the conference prayer meeting.
It might sound counterintuitive, but just like during a regular prayer meeting, we recommend planning your prayers in advance of the toll-free conference prayer line.
During any prayer meeting, in person or via conference call, people do better with some guidance. It's best if you can provide categories and examples of prayer, in addition to some basic boundaries of prayer.
By laying out a basic structure for your toll-free prayer conference line, you'll end up with a much more productive prayer meeting and happier participants.
When it comes to the actual logistics of setting up a toll-free prayer line, if you use a service like Branded Bridge Line, the steps to take to get everything up and running are simple and straightforward.
Let Us Show You The Difference!
Schedule a demo of our pain-free conference calling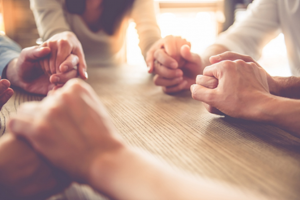 Branded Bridge Line makes it easy to select a plan with a toll-free number, ensuring that members of your congregation can call into the prayer line from anywhere without having to pay long distance fees.
Branded Bridge Line can also offer multiple numbers with different local area codes that all connect to the same conference prayer line. This way, you could even connect people in different countries via a free prayer line number.
By selecting local area codes for your callers and congregants, you can ensure it's easy and affordable for them to connect to your prayer line and get the support they need.
As you choose a conferencing plan for your toll-free prayer line, check to make sure the conference call provider supports the number of callers you anticipate joining. Most free services offer support for a limited number of callers, while other paid services make you pay for extra callers you don't need.
With Branded Bridge Line, you can choose a plan that fits your needs, and even add additional callers at any time if something changes or your prayer line increases in popularity.
The Benefits of Conference Lines for Churches
Another benefit of having a toll-free conference line for prayer, is that you can use the line for additional church meetings and functions. Branded Bridge Line offers dedicated lines, so when you decide on a number, it's yours to keep. Since the conference line stays assigned to your church or organization, you can schedule its use on your terms.
If you schedule your toll-free conference prayer line to be live during certain hours of the week, all of the other time the conference line will be available for other uses. You could even set up separate, topic-specific prayer lines for different times during the week. With your very own conference line, the possibilities are limitless.
Branded Bridge Line makes managing your conference line easier than ever, with an advanced conference call management interface. It allows you to set up various recordings to play when people call into the line, plus it allows for in-call management to help you track who is speaking and even mute certain lines to avoid distractions while the prayer leader is talking.
A Conference Prayer Line Solution for Every Church
If you're looking for the best solution for toll-free prayer lines for your congregation, look no further than Branded Bridge Line. In addition to providing toll-free and local dedicated lines, and easy to manage conferencing, we also allow you to customize your prayer line greeting.
Other free conferencing solutions assign random numbers and come with pre-recorded greetings that advertise their own services. We make it simple to put as much pride into your toll-free conference call prayer line as you put into your church and its services.