While face to face meetings are probably still the most effective way for a lot of people to get something done, conference calls remain a necessary and important part of doing business. With employees and workforces continuing to spread further and further apart, conference calls are often the only way that necessary participants can all come together for a meeting.
Conference calls are usually quick, effective, and take less time to setup than physical meetings. Plus, they are easier to schedule than in-person meetings, thanks to the fact that no one has to travel to a central location in order to participate. Whether you need to host a brainstorming session, solve a vexing problem, or make an important decision, conference calls are the perfect solution to bringing the right people together.
So, how do you host an effective and productive conference call? In this post we'll cover some of the most fundamental conference call tips for leading productive calls. Whether you're leading your first meeting, or just want to push your business to have more effective calls, these tips will help you get the most out of every single conference call.
Tips for Conference Calls
Preparation is Key
As is the case with every meeting, good preparation is key to having good conference calls. The first of your conference call tips is simple: be prepared.
Make an agenda ahead of time. Conference call preparation can be boiled down into two main parts. First, make sure you have a good agenda set ahead of the call. In the agenda, lay out the objective of the call, and set a timeline for each topic that needs to be discussed. Furthermore, if certain participants should lead different sections of the call, it's vital to assign each section to the corresponding employee or participant. This will ensure that as you transition from one section of the call to the next, no one will be surprised when you ask them to take over the call.
Send clear call-in instructions. The second part of conference call tips when it comes to being well-prepared is making sure you send out clear and detailed instructions on how to join the call. Dial-ins, access codes, and PINs can be cumbersome, so make sure the invite includes all the necessary details. For even easier call-joining instructions, try using a conference plan from Branded Bridge Line. Each of our plans includes unique numbers with PIN-free dial-ins, so you won't have to worry about people entering the wrong PIN and joining the call late.
Set Out Clear Call Etiquette Guidelines Ahead of Time
It might seem a little cumbersome to layout rules before a call, but ideally you can send out a list of clear call guidelines once to ensure everyone in the company knows what is expected of them on calls.
As you look through different conference call tips, you'll probably see a lot of different opinions about the various etiquette guidelines that are important to having a good call. Over the course of our time providing the best conference call service in the market, here are the ones we think are most important.
Let Us Show You The Difference!
Schedule a demo of our pain-free conference calling 


Everyone is expected to join the call on time. Start calls on time and don't wait for stragglers. Inevitably someone will join the call late, however the worst thing you can do is stop and start the call over. That will only encourage people to be late over time. Ask that someone catch them up on the details they missed at the end of the call.
Announce yourself when you join the call. As far as conference call tips go, this one can get overlooked, especially if your company does a lot of calls. That being said, you should always announce your presence when you join a call. Imagine if you didn't know someone joined a call, and finding out after when you were having a semi-private conversation. Announcing your presence instills trust, so all participants know exactly who's on the call at any given point.
Never put the conference on hold. If you're calling in from a work line, never put the call on hold. This causes hold music to play for the rest of the callers, immediately halting any progress being made on the call.
Mute your line when you aren't speaking. Any extraneous noise can be extremely distracting during a call. As a courtesy to others, and to ensure the call moves as quickly as possible, always put your phone on mute when you aren't talking.
Say your name before you speak. When it comes to tips for conference calls, especially large calls with many participants, this one is vital. Voices can sound the same, and you don't want people stopping to think, "Wait, who just said that?" Announce your name, and then make your contribution.
Keep comments short and to the point. Often times, everyone has something they'd rather be doing than attending a meeting. As you put these conference call tips into action, try your best to keep your comments brief and on-topic. Everyone will thank you in the end.
Don't interrupt or talk over others. It can already be difficult for people to track who's talking on conference calls with a lot of participants. Do your part to make sure things don't turn into chaos by waiting for someone to finish their thought before contributing yours.
Stick to the agenda. You (or whoever is hosting the call) put a lot of work into the agenda. Stick to it! If there is something important to discuss that's not on the agenda, it might be time to schedule a separate conference call.
This may seem like a lot of conference call tips to remember, but keep in mind that most are just common courtesy. Once you start using them, they'll quickly become habit and your calls should become quicker and more productive!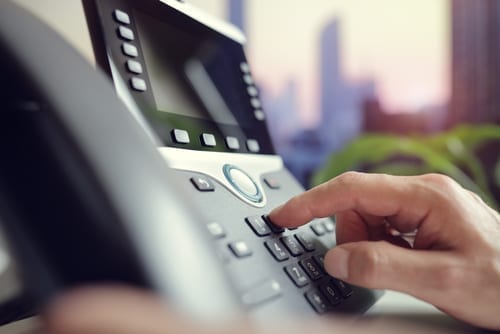 Pro Conference Call Tips
As you implement these conference call tips, and start becoming more of a conference call pro, here are some additional tips you can try to make your calls even more effective.
Keep the call under control. This sounds serious, but it's fairly straightforward. Everyone on the call will be looking for a leader. Announce your role as the call leader, and stick to it. Move the call from topic to topic, and actively encourage participation.
Don't mistake silence for affirmation. For the most part, people are inclined to stay quiet on calls, and only speak when directly asked to do so. If you are making an important decision on your call, and someone is silent, don't assume they are in agreement. The fastest way to clarify if someone is on board is to ask them directly.
Verbally request comments and feedback. If you notice that someone is not participating in the call, asking them specifically for feedback can be a quick way to get them to actively join the conversation.
Repeat important comments and contributions. One downfall of conference calls is that visual cues are totally missing. It's easy for people, especially people in remote locations, to get distracted by whatever they happen to be doing. For this reason, it's important to repeat any important comments as a way to helpfully reiterate what they might have missed.
A common theme in these pro conference call tips is disrupting silence. People are inclined to fly under the radar if possible. You may find that calls become more active and even faster if you directly call on everyone to participate verbally.
Pro Conference Call Tips for International Meetings
Here are a couple pro conference call tips if you have to host participants from international locations.
Consider local time zones when scheduling the call. It can be difficult to find a time that works for everyone, but calls are more productive when participants don't have to stay at work late or wake up early just to be on a call.
Give international participants something to do. Also, it's important to make sure international participants know their role on the call. Provide a local dial-in number. And finally, when it comes to international conference call tips, consider getting a local dial-in so international participants can avoid paying long-distance calling fees when joining the meeting. Branded Bridge Line conference call service offers local numbers in more than 80 countries and every area code in the United States. Providing a local dial-in number can also provide a nice touch if you're trying to impress international clients.
Start Having More Productive Conference Calls Now!
Hopefully these tips for conference calls were helpful. Conference calls can be intimidating, but with the right preparation and clear call guidelines they can at least be effective and productive. Now that you know the best conference call tips, it's time to take a look at all of the conference call features Branded Bridge Line has to offer so you can start having more productive conference calls today!