When people start a business, they'll often have their personal phone number double as a business line. While this seems like a tempting way to cut costs, there are a number of reasons why it's not a great idea.
As your business grows, not having a dedicated business line for conference calls will become increasingly annoying. And it can be a hassle when you finally decide to separate your work phone communications from your personal phone line.
That's why it's better to set up a dedicated line in the early phase of developing your business. This is especially true if you want to be able to put your company number on advertisements and business cards.
This page will explain what exactly what a dedicated line is and how one could benefit your business.
Dedicated Line Definition
A dedicated line is a phone line that is used solely for your business. The number assigned is yours alone and can be used for phone meetings and conference calls.
Some conference call services provide inferior, fake "dedicated lines" to their customers, where phone numbers are recycled between accounts, necessitating unique PINs to be assigned to each customer. We think each account deserves its own unique line – no cutting corners.
Even if your company is small or in its infancy, establishing a dedicated business line is the right move. Let's find out why.
4 Ways Your Business Will Benefit from a Dedicated Line
Having a dedicated business line increases the professionalism, efficiency, and security of your phone calls, leading to benefits like:
A simpler conferencing experience for you and your callers
A more sophisticated look for your business
Safer, more secure calls (no Zoom bombs!)
Clearer audio
Let's get into the details of how each benefit can help your business.
#1: Dedicated Lines Make It Simple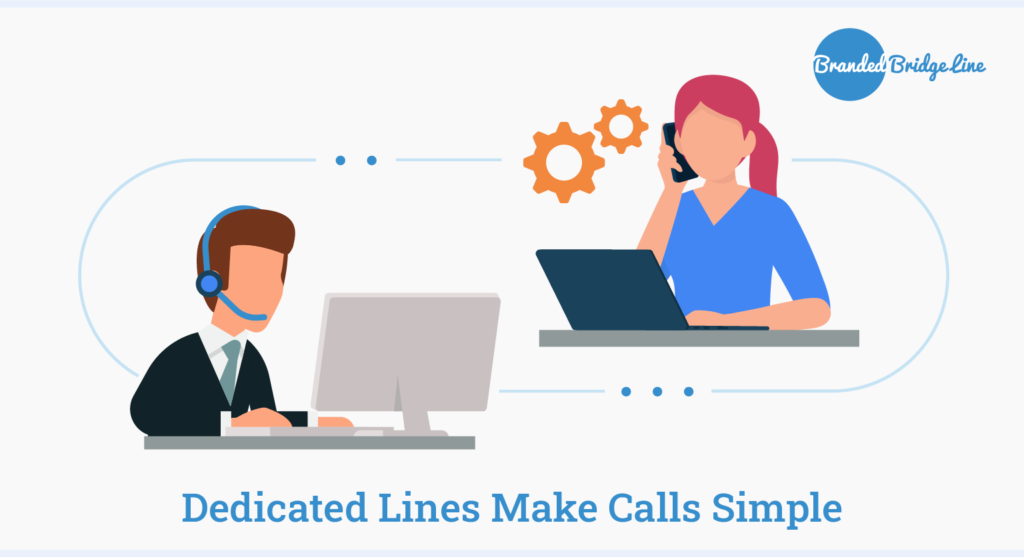 When you're just starting out, having a dedicated line might seem pointless. You may think, "why not just use my personal phone number or a free hosting service for conference calls?"
Well, that's all well and good for one conference call. However, as your business begins to grow and you begin to have an increasing number of participants on an increasing number of calls, it's unlikely your cell phone service will be able to deliver the quality and organization needed for business calls.
There are free conference call services, but they usually don't come with a dedicated line. If you make conference calls regularly, having a unique number for your business is crucial.
Having to check emails and calendar invites for a new phone number before every conference call becomes a chore; never mind dealing with a dreaded PIN to enter. A dedicated line, on the other hand, can be easily saved by a client, employee, or investor, and eliminates all the fuss – especially with pinless calling.
If you're already running a large operation, you'll want to consider an enterprise conferencing solution that has multiple dedicated lines for your employees. This way, your company can host multiple conference calls at a time, led by different teams.
#2: Dedicated Lines are More Sophisticated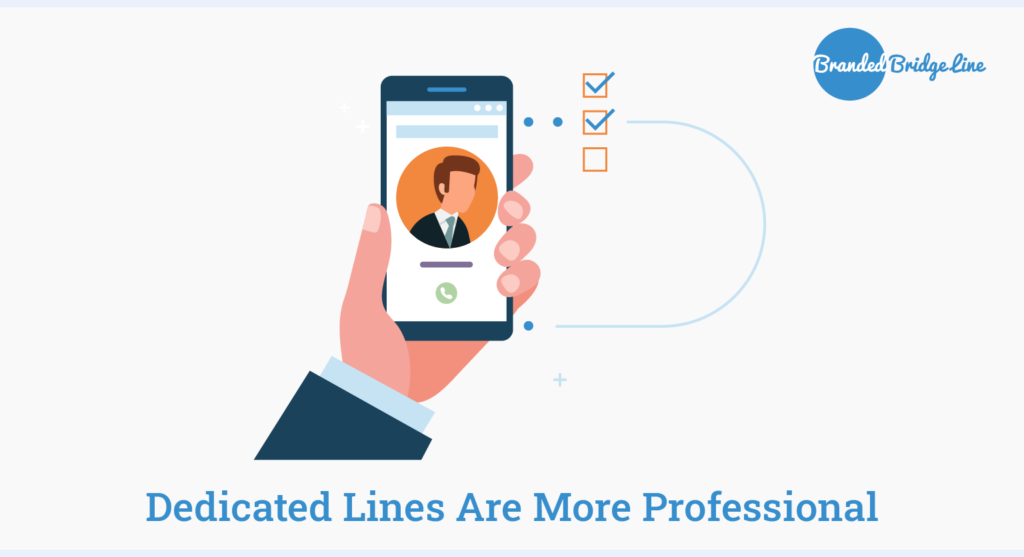 Making things simple and easy isn't only beneficial from an efficiency standpoint. Having a dedicated business line also conveys a level of professionalism and sophistication to your callers. We see many law firms using dedicated lines for this specific reason.
To take your calls to the next level, add a professionally recorded welcome message. Use the message to call attention to new features of your business or your company's core values. A customized greeting is a unique way to get calls started on the right foot.
Finally, to make your dedicated line as professional as possible, choose a local dial-in number. Is your business based in New York City? Make sure your dedicated line starts with (212). Or, are most of your clients in the U.K.? Provide them with a familiar, U.K. phone number to dial for phone meetings.
#3: Dedicated Lines Are More Secure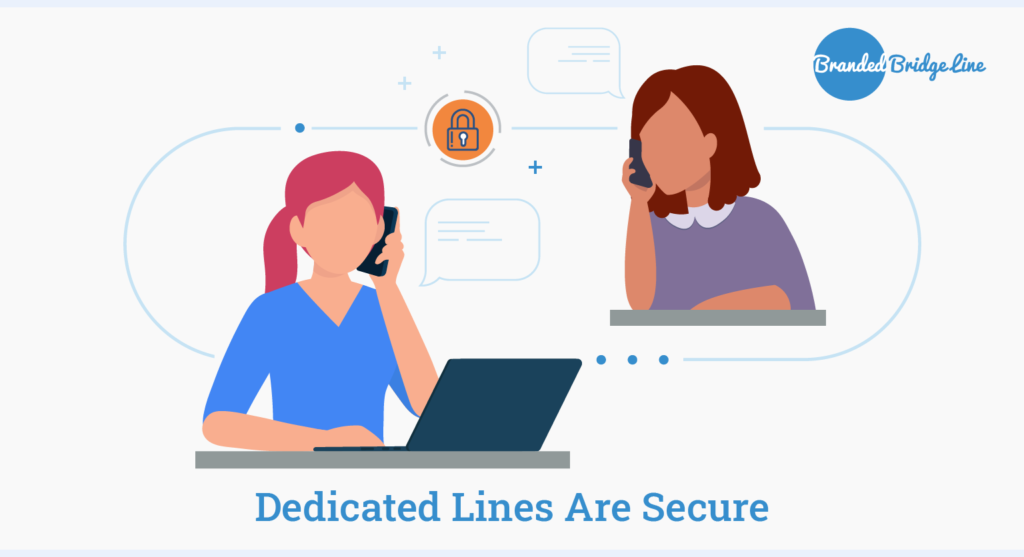 Security is perhaps the main concern when it comes to conference calls. These conversations are meant to be kept private between you and employees or clients. The threat of an uninvited guest listening in is of paramount concern.
Fortunately, with a high-quality audio bridge service, you'll never have to worry about unwelcome listeners on your dedicated business line.
Dedicated lines truly have an advantage when it comes to security. Where other bridge services might assign you a number that is constantly rotating with multiple recipients, you can rest easy knowing you aren't sharing a phone number with other random companies.
A dedicated business line also eliminates the need for conferencing PINS and URLs, preventing unwelcome visitors from accidentally—or purposefully—tapping into your meetings.
Additionally, Branded Bridge Line's dedicated lines are secured according to top industry standards. This means they:
Are provided only by Tier 1 carriers.
Are secured by strong SSL encryption.
Allow customization over security settings.
We also offer Call Lock for conference calls that require the utmost security. This feature can easily be turned on using your account dashboard. Call Lock allows you to:
Identify the participants on the line.
Kick out unwanted callers.
Prevent additional callers from joining once all participants have arrived.
#4: A Dedicated Line is Clearer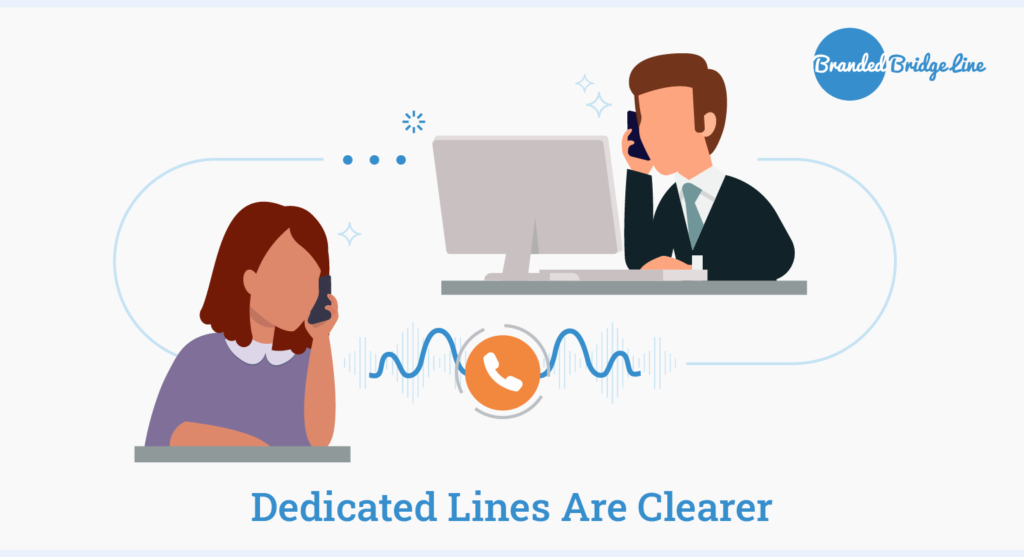 There are few things that can disrupt a conference call quite like a faulty connection. Drop-outs and static seem to always occur at the worst possible times. These problems often plague conference calls when the host tries to conduct a call using a personal cell phone line.
Dedicated lines through high quality bridge services are browser-based, meaning they connect to participants through your internet connection. Gone are the days of faulty connections conducted through traditional public-switched telephone networks (PSTNs), which are rife with latency problems and low-fi audio.
As long as you have reliable internet, you'll never have to worry about a poor connection when you conduct important calls.
Try a Dedicated Line for Free
If your business conducts conference calls, it's crucial to have a dedicated line. Without one, your phone meetings will lack efficiency, professionalism, and security.
Sign up today and enjoy 14 days of free conference calling with a dedicated line. Get a single, dedicated conference line and unique phone number for all your business meetings. Less complicated. More professional.