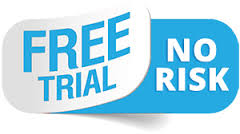 Free Conference Call Trial
We believe we've built a quality, easy to use, secure conference call service that will not only make your conference calls run more efficiently, but will also highlight your brand and add to your professionalism. We're confident you'll fall in love with the service so we're offering a 14-day, no-risk, free trial. You will experience top quality conference calling that is branded just for you with your own professionally recorded
call greeting
. The conference call free trial provides you with one phone number and up to 500 minutes of conference calling. Once you're happy with the service, sign up for one of our plans is easy. You can even keep the same phone number!
No Risk
Many free trials require a credit card up front, putting the responsibility on you to make your trial "free" by cancelling in time if you're not happy with the service. We don't want to do that. We want you to enjoy your trial and not worry about marking your calendar with one more action item to cancel the service by a certain date.
Sign up for the 14 day free trial is easy and never requires a credit card
.
Fully Featured
We don't limit the features made available to you for accessing or managing your conference call on your free trial. You enjoy all of the same features you will when you sign up for a paid plan. Some of the features you'll enjoy include:
Set Up in Minutes
Setting up your free trial is fast and simple. Follow these steps and start your first call in minutes:
Click here for your 14 day Free Trial
Enter your name and email address
Select your number in the area code of your choosing
Enter the text you want in your professional greeting
Then share your new phone number and join the call!
More Conference Call Features