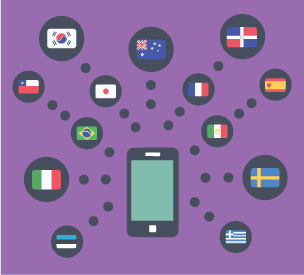 International Teleconferencing
In today's global economy, international teleconferencing is essential in every aspect of business including creating products, managing marketing campaigns and closing deals. Branded Bridge Line's teleconferencing solution provides international numbers in over 80 countries. You'll never have to ask your customers to dial an international number to join your call. The high quality, robust audio will make them sound like they are in the next room.
Many Ways To Join Your Call
In addition to providing international phone numbers, your international clients can access your conference from their computer or using our Branded Bridge Line iPhone app. Just click the share icon on your dashboard and send your client a link to click on. With a browser and headset, they will be on your conference call without any international dialing charges. Or go to the Apple app store and download the Branded Bridge Line iPhone app. You will be on your call in minutes.


Reliable, Scalable Teleconferencing
Our international teleconferencing is built on multiple tier-1 carriers to provide reliability and scalability. Regardless of the number of countries you want to bring together, our solution will handle the load. You only get one chance to make a good impression and we want to do our part in helping you get there!