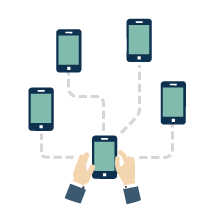 Toll Free Conference Call
The toll free conference call is still an added touch for your VIP customers and give your company that professional edge. Using Branded Bridge Line's toll-free phone numbers, you can allow your clients to call in from anywhere in the US or Canada toll-free. There are two ways to use toll-free numbers with our service.


Option 1: Get a Toll-Free package
This is as simple as it gets. We offer plans that are exclusively for toll-free use. Here are the pricing details:
Option 2: Add on a toll-free line
You can add a toll-free number to any of our toll plans for $10/month and 4.3¢ per minute. Just sign up for a toll plan and get a toll-number, then add on the toll-free number. This allows internal staff to dial in using a toll number to keep costs down while your customers use the toll-free number!
How to set up toll-free conferencing
You can host toll-free calls with any of our standard plans by adding a toll-free option. To add a toll-free number to your existing plan, follow these simple steps:
Click "Add a number" from your dashboard
On the "Add a number" dialog, click the toll-free link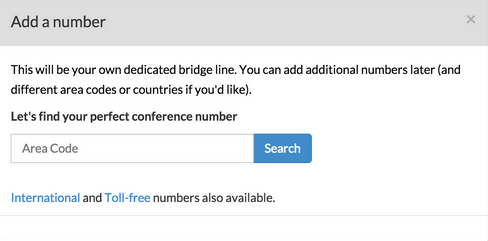 Select your toll-free number
You're all set! Have your first toll free conference call, wow your clients and save them money!


You will enjoy all of the great features on your toll-free calls that you enjoy on your other numbers such as call recordings, professionally recorded greeting by a studio voice artist, outbound calling and PIN-free dialing. Your toll-free number can also be tied into any of your other numbers, allowing your clients to save on long distance fees while members of your team dial the normal conference number. Minutes used on your toll-free line will not count against your plan minutes!
More Conference Call Features